Your solidarity gesture
With the 5×1000 to Foundation Betania Onlus you help the Franciscan Fraternity of Bethany in its solidarity work in Italy and abroad.
Your signature will turn into a hot meal for hundreds of families in difficulty, into a place where children from the favelas of Salvador de Bahia can study and grow up safely, into a shelter for all those who every day knock on our doors in search of comfort.
It is a small gesture that costs nothing, but that can help many.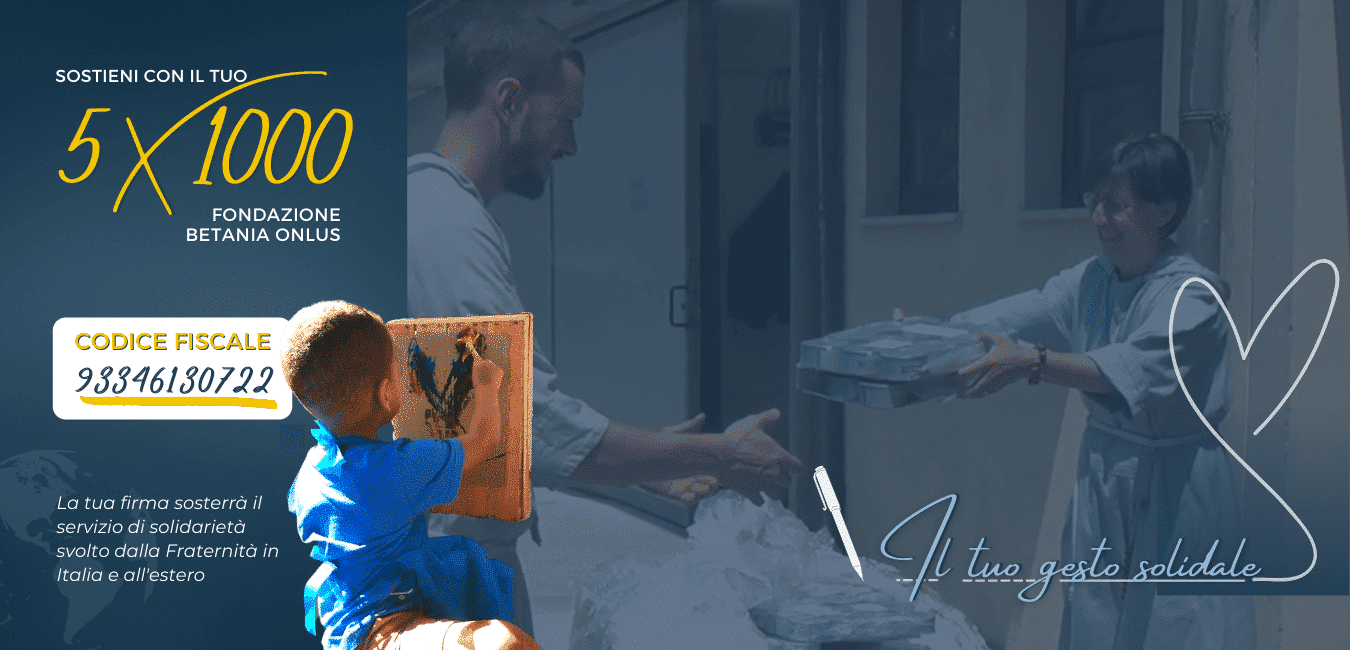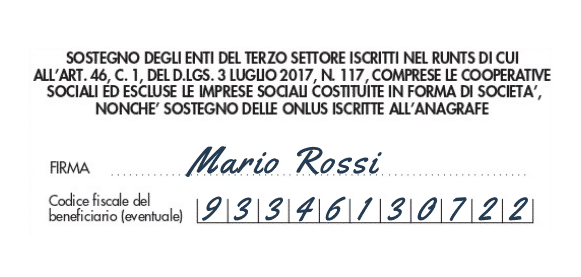 

In your tax return form, look for the space dedicated to 5X1000



Sign in the box labeled 'Support for third sector organizations registered with RUNTS etc.'.



Indicate, below the signature, the tax code 93346130722
The 5×1000 is a percentage share of IRPEF (Personal Income Tax) that the Italian state distributes among organizations that carry out socially relevant activities.
It costs the donor nothing, in fact it is a part of the tax that you would pay anyway with your income tax return, but that you can choose to donate to a non-profit association such as the Bethany Foundation.
Receive a small reminder for free
On the calendar
Do you prefer to be updated with an automatic reminder that will appear in the calendar on your computer, tablet or mobile phone?
Download the reminder with your preferred device.
Things to know about 5X1000
How can I donate 5X1000?
– If you have to file a tax return
In the tax return form (730, CU, Unico) look for the section 'CHOICE FOR THE DESTINATION OF THE FIVE PER THOUSAND OF THE IRPEF'.
Sign the box marked "Support for voluntary work and other non-profit organizations of social utility, associations for social promotion…" and write the tax code of the Bethany Foundation: 93346130722.
– If you don't have to file a tax return
Fill in the form provided together with the Certificazione Unica (CU) by your employer or pension provider, sign in the box indicated as "Support for voluntary work…" and write the tax code of the Bethany Foundation: 93346130722.
Place the card in a sealed envelope and write on the envelope "DESTINAZIONE CINQUE PER MILLE IRPEF", indicating your surname, name and tax code.
Deliver it to a post office or to an intermediary authorized for telematic transmission (CAF, accountants, etc.).
What happens if I decide not to donate the 5X1000?
If you do not sign, all that happens is that the taxes you pay remain taxes and do not help the non-profit organizations concerned.
Remember: if you sign on a specific box destined for a compartment without entering a tax code, your 5X1000 is redistributed proportionally among all the beneficiaries of the compartment in which you signed.
By when do I have to submit my tax return?
– INCOME STATEMENT (ex UNICO) – from 2 May to 30 June 2022 on paper, or by 30 November 2022 electronically.
– FORM 730 – by 30 September 2022.
What is the difference between 5x1000, 8x1000 and 2x1000?
5×1000, 8×1000 and 2×1000 are all percentages of the IRPEF that taxpayers have the option of allocating and it is important to know that they are not mutually exclusive.
The purpose of the 8×1000 is to offer support to the Church of worship (religious denominations and creeds) and to donate it all you need to do is sign in the appropriate section. The 2×1000, on the other hand, is intended to support political parties.
Once again, it is important to remember that the choices are in no way alternative to each other and can all be expressed without resulting in higher taxes due.