Us brothers and sisters of the FFB try to let ourselves be challenged by these words of Jesus that stimulate us in our daily service of solidarity aimed at the 'little ones' of the territories where our Houses are located.
This commitment is an aspect that is part of one of the pillars of our charisma, that of welcome,through which the Lord calls us to open our hearts and stretch out our arms to be close to all those He places on our path, especially to those who live in the poverty of today's world, both material and spiritual, and who often struggle to get up in the midst of so many difficulties.
Father Pancrazio, our founder, always communicated to us his desire for our Fraternity to be close to all those social realities of minority and hardship. "Man dreams and God realizes" he frequently repeated, affirming that Love, the one with a capital L, nullifies all distances.
A service that is particularly close to our heart, and one that we have been involved in since the early years of our Fraternity experience, is the distribution of meals in some of the canteens of our Houses.
Day after day, we try to enter into a relationship with those who knock on our door, giving them a smile, a word of comfort, a friendly face to talk to and share their story with.
It is a service that helps us comprehend that they are not 'the poor', but they are people with a face, a name, a story… who do not just need material help, but someone who looks them in the eyes and makes them feel welcome, who can listen to them and tell them: 'I love you', 'How are you?', 'I am by your side'.
Simple words, but they give the opportunity to feel seen in their dignity as people, and for many of them this was the first step towards meeting the face of a God who is Love, rediscovering a new life and smiling again. This is a source of great joy for us!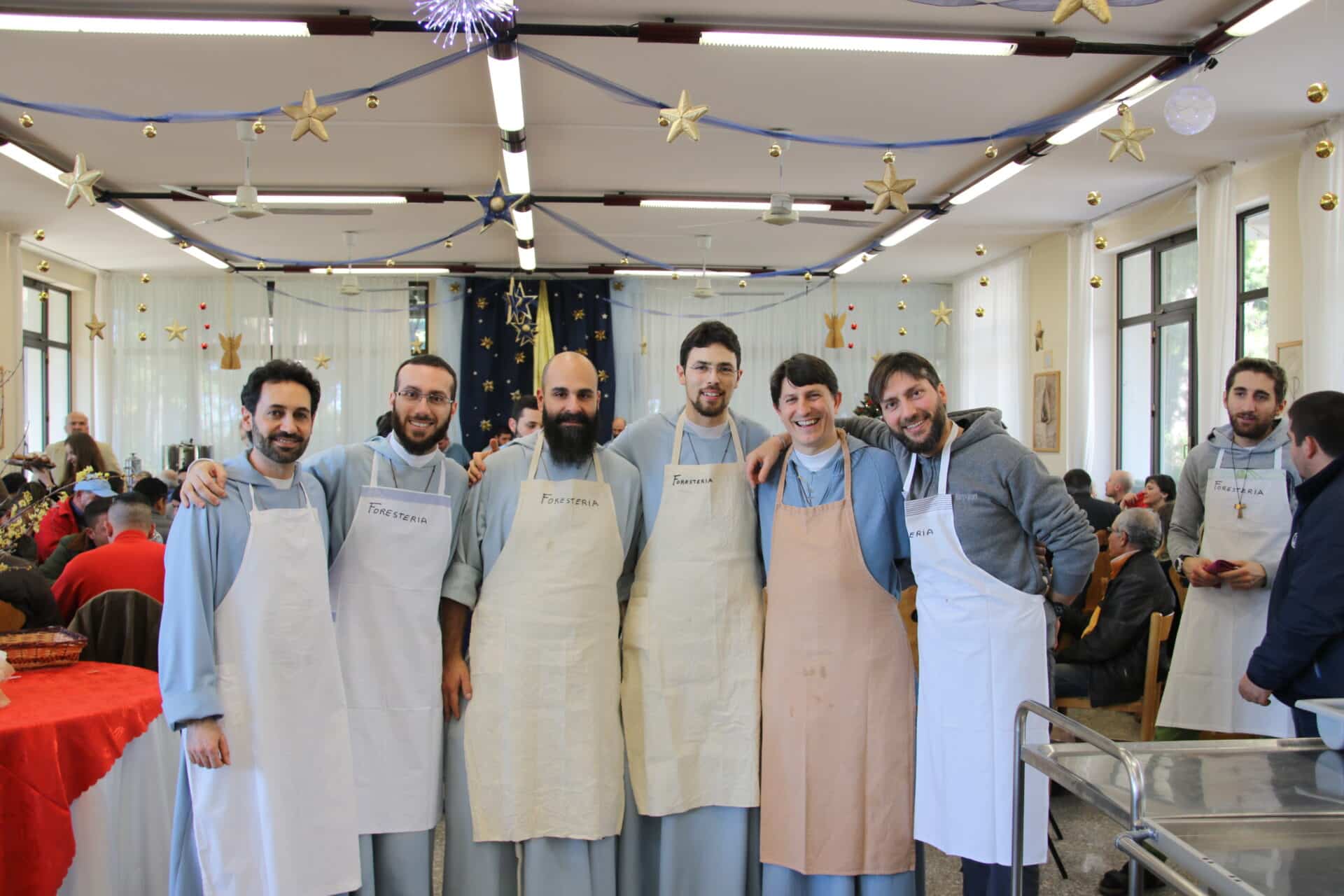 In the face of each of these brothers, often marked by fatigue and suffering, we recognise that of Jesus who identifies with the poor and comes to meet us.
A crucial aspect of our solidarity activity consists in helping families in need.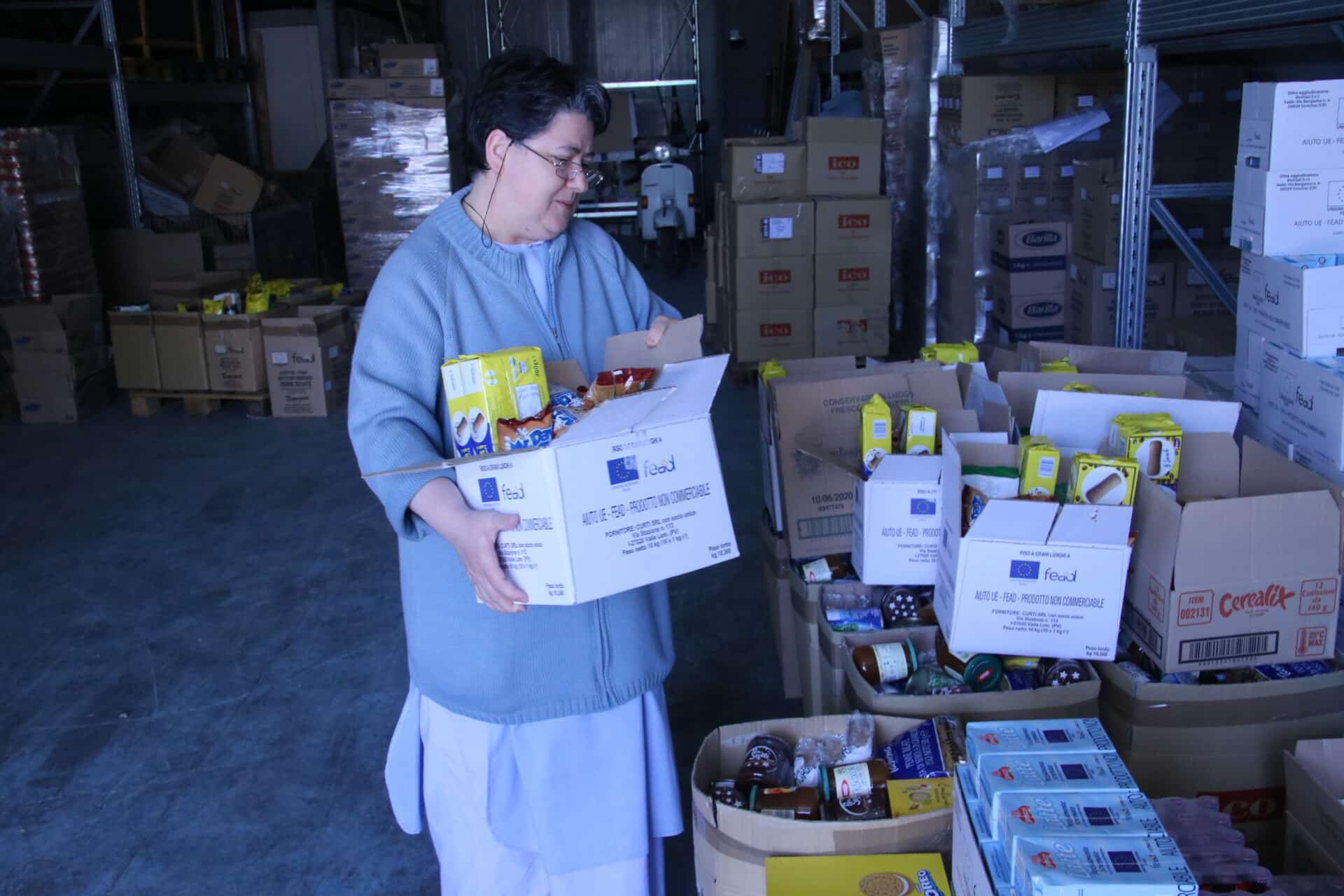 In our fraternities we meet on a daily basis fathers of families who have lost their jobs, single mothers, large families who cannot, on a single salary, cope with family needs, or elderly people who cannot live on their pensions and feel abandoned and forgotten.
We welcome them all with love, listening first and foremost to their needs and motivations for asking for help.
We distribute very generous monthly food parcels to these families, which we prepare with care and attention and which we fill with basic necessities such as pasta, rice, oil, legumes, milk and biscuits that we receive from the Food Bank, but also with a great deal of other provisions that the Lord sends us in his infinite Mercy.
Whenever possible, we also donate clothing and baby products to expectant mothers or mothers with small children, who are worried about the future of their children due to a precarious economic situation. Often, in this kind of support, other mothers help us, creating a real network of solidarity.
In doing this service, we try to give a word of comfort and encouragement, especially in the most difficult situations. Small things: an affectionate greeting, calling people by their proper name, remembering their stories and their requests… simple gestures, that say "You exist, you are important to me", "You are worthy of respect", "God loves you and cares for you".
Sharing what Providence gives us is for us a source of great joy, a gift in which we see the good hand of God at work, which does not let these most needy brothers and sisters go without.
Collection, sorting and distribution
The brothers of the Fraternity are on the move every day to collect food and other products that companies discard or allocate for social purposes.
The Fraternity's collection center relies on the collaboration of the Food Bank, food companies connected to it, hypermarkets, general fruit and vegetable markets, farms and food companies that give us gifts of their own.
The solidarity area is in charge of managing the flow of food Providence that arrives daily in our Fraternity, receiving, storing and arranging the goods received from the aforementioned institutions and from the generosity of friends and benefactors, then using them for the various solidarity activities and sharing them with other religious institutes, rehabilitation communities and associations involved in social work.
This miracle of Divine Providence continues to be repeated every day. Our Founder, Father Pancrazio, urging us to do "always more and always better", often repeated to us these words of Jesus: "Seek first the Kingdom of God, and all these things will be given you as a reward" (Mt 6:33); the concreteness of these words the Fraternity has been experiencing for 40 years now. In our Houses we experience on a daily basis what it means to live by Providence, because the Lord is faithful to his promises; we are only asked to respond generously to his invitations.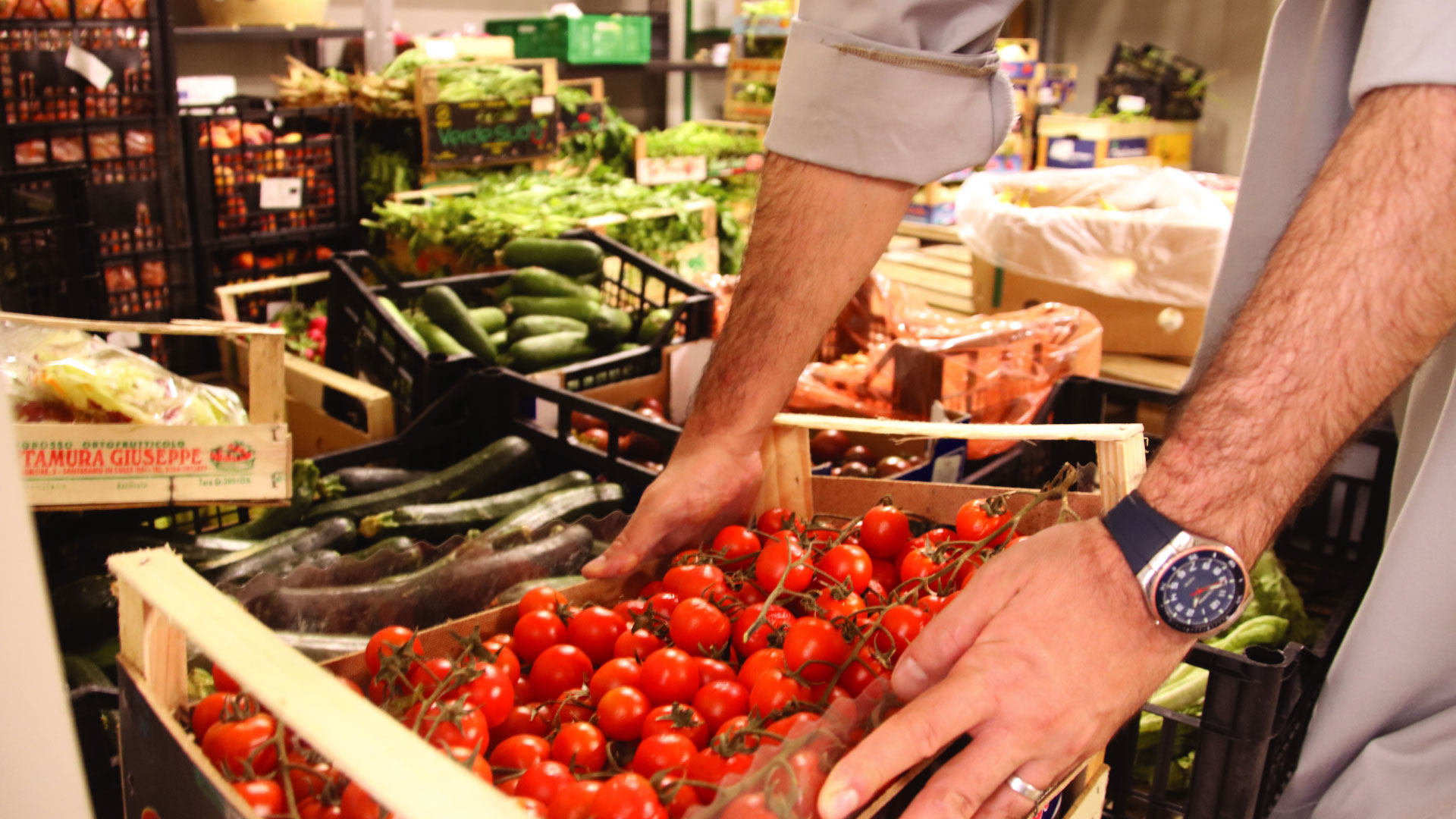 canteen meals for the poor
Hours of community prayer
It stems from the desire of our founder, Father Pancrazio, to set up a centre of welcome and hospitality for young people living in favelas in serious situations of hardship, offering them a formation, in the light of the Gospel and in the spirit of the FFB, that guarantees their integral development.